Posts Tagged 'updates'
Feb 17, 2011 Tools
Dear All,
Here goes a big news for yall – The WM Sound Recorder by GodswMobile has now been updated to a higher version!
WM Sound Recorder is an easy-to-use application which could auto record sound and phone calls in Windows Mobile Pocket PC. And it also can play the record files so that you can check if the record fits you. In addition, you may distribute your recorded files easily with it. Recording and playing audio on phone has never been so easy with WM Sound Recorder!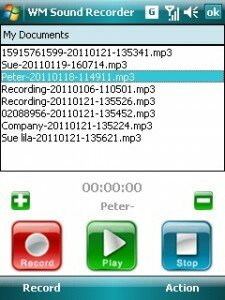 Key Features of WM Sound Recorder:
• Auto record phone calls including outgoing and incoming calls;
• Record sound and phone calls to *.mp3 and *.wav audio file;
• Three recording quality for choosing: Low, Normal and High;
• Support monaural and stereo recording & Support 22 kHz to 44 kHz,44Kbps to 176 Kbps for choose;
• Support set to record every phone call, today's phone calls and next phone calls, not record any call.
• Buildin player to play *.mp3 and *.wav audio file;
• Support send recording file via Bluetooth and email;
• Support custom recording file store folder;
• Support unlimited time recording;
• Support VGA and WVGA Screen (such as HTC Touch HD/2 and Diamond/2).
For more information please click here:
We have always been waiting for your becoming our value and happy users.
So don't hesitate! Just check it out!
Best regards,
Godsw Software,Inc.
Tags: godswmobile, updates, WM sound recorder