Archive for April, 2010
Apr 22, 2010 News, Tools, windows mobile
Today let's chat for Mobile Phone Call Recording.
According to the observation of my closed friends, I found that a number of them begin to record phone calls,and the number is increasing.The reason for most of them are in order to protect their rights and privacy, so I recently strengthened the knowledge and understanding in this regard.
What I wanna share is as follow:
(1)What is mobile phone call recording?
What is mobile phone call recording? In fact, many people are not well conscious of that. By recording mobile phone calls, you will be able to access, listen to and archive the actual conversation with your friends, family, clients or business partners over your mobile phone.
(2)Why people record a mobile phone call?
Actually, many people now are recording mobile phone calls out of different purposes. Some people just enjoy the fun of listening to the talk they have been in earlier. Others collect them to archive their electronic diary database in memory. Besides, call recording can be very useful in life. For example, in our daily life we always have to face a situation, when we have to take a note of what we are talking on a mobile, may it be an import phone number or a long address. Unfortunately, you don't have a pen or paper at hand. Call recording will be very convenient at the time. In fact, now many businessmen even use mobile phone call recording to record business, transaction calls over the phone with their partners.
It is just two shallow questions,I hope it can make you to get the general understanding about mobile phone calls recording.
After understanding,I try to find a reliable recorder for my HTC Pro 2, Well, now I would like to share with you one.Come on..
However, before we start, you first need to ensure that it is legal in your state before recording a cell phone conversation,. In some states, it is illegal to record conversations without the consent of the other party.
How to record  mobile phone call?
What I want to introduce is a clean-interfaced and small-sized software, WM Sound Recorder, it is specially designed for phones operating under Windows Mobile. As we know, recent Windows Mobile devices have prevented the traditional method of recording phone calls. So you don't have to worry that your Windows Mobile cannot record a call any more. WM Sound Recorder will automatically record both incoming and outgoing calls.
The following is a list of key features of WM Sound Recorder.
Read the rest of this entry »
Tags: record sound, sound recorder, window phone, windows mobile, WM sound recorder
Apr 19, 2010 News, windows mobile
Hello Sweety,
GodswMobile Web Site has totally four languages now!!
Because of the good sales of GodswMobile Products and requirement from a large number of customers, our Tech team staff increases three languages of our Website: German, French, Spanish.
Operation:
When you open the homepage  of GodswMobile?you will see three new buttons in the upper right corner of the display page(as follow). You can select a specific language as you like.


Read the rest of this entry »
Tags: godsw, godswmobile, multiple languages, windows mobile, windows phone
Apr 12, 2010 Uncategorized
Howdy Every One,
Thank you for your long time support to GodswMoible!
Cheers now! We are so exciting to announce that GodswMobile Windows Mobile Transfer Suite has already  been launched! Are you ready?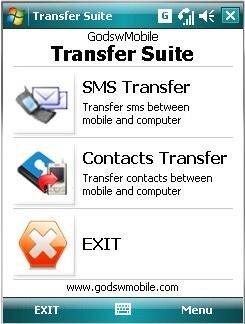 "GodswMobile SMS Transfer" and " GodswMobile Contacts Transfer" cost $19/each. But now you can get this GodswMobile Windows Mobile Transfer Suite at a very competitive price $29! Save $10!
Read the rest of this entry »
Tags: backup contacts to pc, backup windows mobile, save sms to pc, sync windows mobile, transfer message to pc, transfer windows mobile
Apr 8, 2010 Tools, windows mobile
Hello sweety,
Today what I will share is a Font change Tool for windows mobile–Ing Change Font.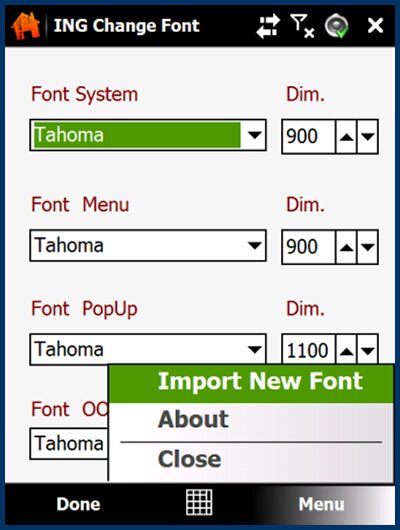 Change Font is a free application that allows users to change a Windows Mobile Professional device system font.
Change Font is special because it has the option of importing a new font that is not currently installed on your device (i.e. a font beamed or copied over from your Desktop PC). The application interface allows you to choose the desired font, as well as its size. After importing a font you will need to soft reset your device as well as after making a choice for another font, but the application will take care of it.

Read the rest of this entry »
Tags: Chang font, change character, godsw, htc, windows mobile
Apr 5, 2010 windows mobile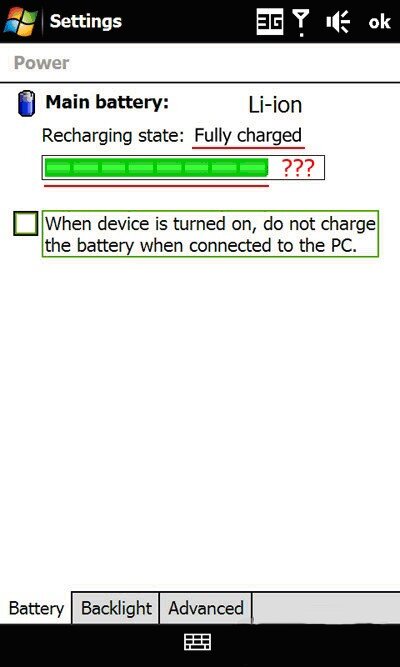 On our windows mobile device,The lithium-ion battery displays as the form of "electricity meter".According to electricity meter,we can read out Can accurately read how much capacity remained in battery,which accurates to 1% as the unit.Windows Mobile device displays the power info. as this form for a long time.
Many people may run the soft launch in the case of low-alarm of the power,and then the electricity meter shows that there is still 20-30% of power left,or prompted to have full power, but the battery meter shows only 90% instead of 100%. At this point, we need hands-on battery power to re-calibrate.

Read the rest of this entry »
Tags: battery, battery re-calibration, lithium, windows mobile