Posts Tagged 'godsw'
May 20, 2011 News, Tools, sms transfer, windows mobile
Hello dear?
Today, GodsMobile Team announced that the most popular product "GodswMobile SMS Transfer manager" has been updated to V2.5
NOTE: The latest version of GodswMobile SMS Transfer for mobile is still V2.1, so you do not need to update your mobile file.
Please click the following link to upgrade your GodswMobile SMS Transfer Manager:GodswMobile SMS Transfer Manager V2.5 for PC.
What is new?
1. Add the search function
User could search text messages by content, number or name.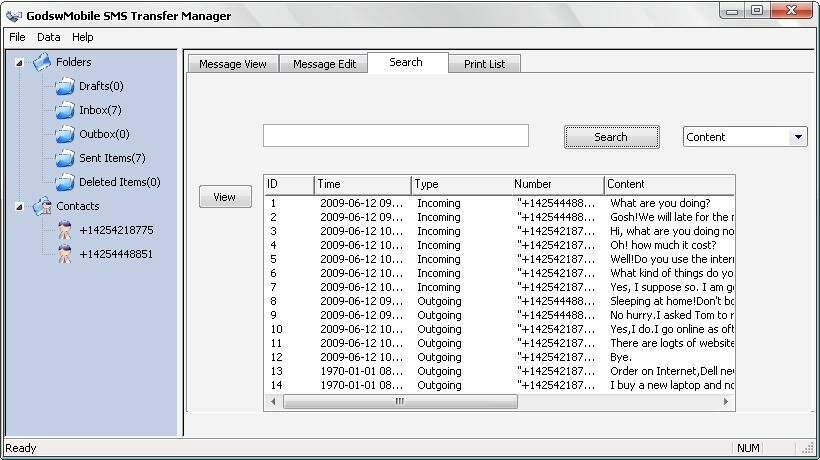 Read the rest of this entry »
Tags: backup sms, godsw, godswmobile, micro phone, new version, sms manager, sms transfer, upgrade, windows mobile, windows phone
Apr 19, 2011 News, Tools, windows mobile
What is GodswMobile SMS Mirror?
GodswMobile SMS Mirror is a must have tool for Windows Mobile 5/6 users to mirror all outgoing and incoming messages and save them in a database. The mirror is a copy of your mobile sms so you never miss the sms with your friends. You could also "move" your secrete private messages from system inbox to this mirror so nobody could see your "own" messages without the mirror password.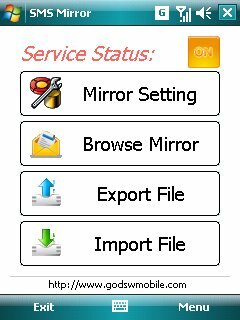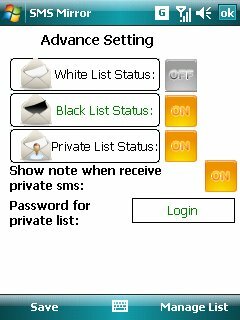 Read the rest of this entry »
Tags: copy sms, godsw, godswmobile, htc, message mirror, private messages, private sms, sms backup, sms filter, sms mirror, sms security, sync message, sync sms, transfer sms, windows mobile
Oct 12, 2010 Uncategorized
Experienced more than three years development time, a new generation of smart phone operating system— Microsoft Windows Phone 7 was finally released on the 11th of October 2010.
New York local time at 9:30 on October 11, Microsoft officially convened  the  released conferences of Windows Phone 7 operating system, the following is from the scene by the Engadget site meeting of the Eleventh Conference .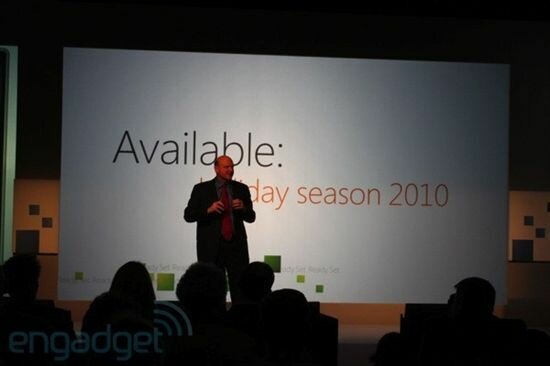 Read the rest of this entry »
Tags: godsw, Microsoft, smartphone, Steve Ballmer, windows mobile, windows phone 7
Oct 8, 2010 News, Tools, windows mobile
Cardmobili is a mobile service to manage rewards and membership cards. It allows users to carry their cards on mobile phones, collect and use rewards, and share them with friends.

The end of plastic cards is near as Cardmobili and others start presenting us solutions to pay wirelessly from our smartphones or avoid having to carry innumerous loyalty plastic cards from all over the world.
Cardmobili, the No.1  application for loyalty cards, brings you:
* over 600 cards from all over the world
* an application compatible with Windows mobile 5.0 and 6.x
* a safe backup for your cards with options to share them with your friends
* barcode check-out at the store!
* And all this for FREE!
Free download and more information  please click here.
Tags: cardmobili, free application, godsw, loyalty, windows mobile, windows mobile 5/6
Sep 27, 2010 Uncategorized, windows mobile
Today I want to say something about the application installing process of Windows Phone 7. Here we know, in the Windows Phone 7,  all applications must be installed through the Marketplace?for the past era of Windows Mobile operating system that the user could install the software in random manner is no longer supported.
And we may have seen the process of the users searching and software installing before, now I will show you two demo screenshots of  software upgrades on the Marketplace.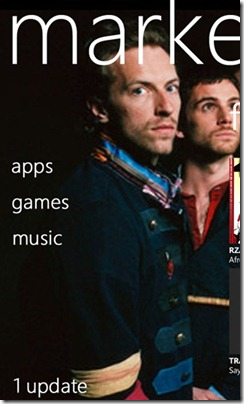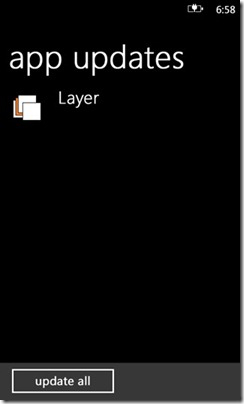 When the user opens the Marketplace,it will be given at the bottom of the screen prompt if the software need to be upgraded. Click on the prompt and jump to the upgrade page. In this page user can select a program or all of the batch to be upgraded.
Glad to share. Have a nice day.
Tags: godsw, htc, marketplace, software upgrade, windows phone, windows phone 7
Aug 8, 2010 Uncategorized
Hello dear customers,
Thank you for long time support. GodswMobile Tech team announced  update of  GodswMobile Contacts Transfer and GodswMobile Windows Mobile Transfer Suite on Aug the 4th 2010.
All register users could FREE update to the latest version.
GodswMoible Contacts Transfer has been updated to V2.1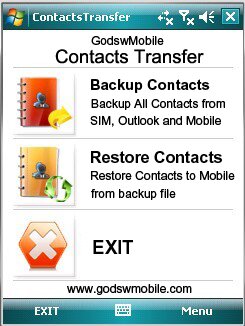 Download from here.
More information please click here.
Read the rest of this entry »
Tags: contacts backup, godsw, godswmobile, mobile transfer, sms backup
Jul 1, 2010 Uncategorized
The World cup football match has begun, but you are still busy in your lots of work ? Or on the way home.So what to do if you want to know the status of ongoing match? I had introduced two software regarding to world cup (FIFA 2010,World Cup 2010)before,now there is another world cup related software for windows phone,it can broadcast live events in real-time by text information to temporarily relief your depressed mood that you couldn't watch TV.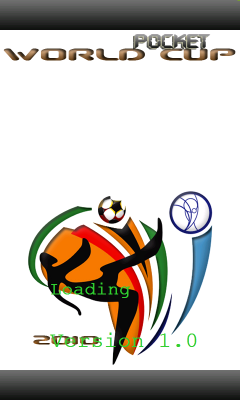 Read the rest of this entry »
Tags: godsw, pocket PC, windows phone, world cup
Apr 19, 2010 News, windows mobile
Hello Sweety,
GodswMobile Web Site has totally four languages now!!
Because of the good sales of GodswMobile Products and requirement from a large number of customers, our Tech team staff increases three languages of our Website: German, French, Spanish.
Operation:
When you open the homepage  of GodswMobile?you will see three new buttons in the upper right corner of the display page(as follow). You can select a specific language as you like.


Read the rest of this entry »
Tags: godsw, godswmobile, multiple languages, windows mobile, windows phone
Apr 8, 2010 Tools, windows mobile
Hello sweety,
Today what I will share is a Font change Tool for windows mobile–Ing Change Font.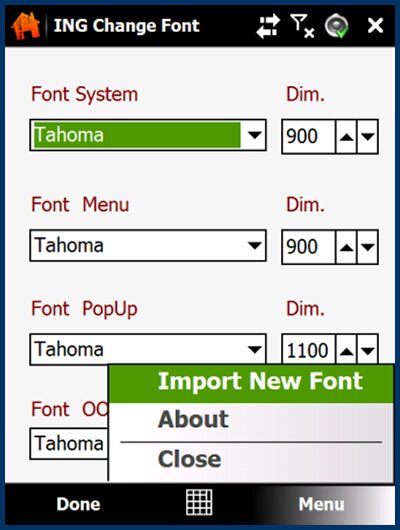 Change Font is a free application that allows users to change a Windows Mobile Professional device system font.
Change Font is special because it has the option of importing a new font that is not currently installed on your device (i.e. a font beamed or copied over from your Desktop PC). The application interface allows you to choose the desired font, as well as its size. After importing a font you will need to soft reset your device as well as after making a choice for another font, but the application will take care of it.

Read the rest of this entry »
Tags: Chang font, change character, godsw, htc, windows mobile