Jun 7, 2010 Uncategorized
2010 South Africa World Cup is approaching?as a football fan?don't you want to get the latest game report in time?Today I want to recommend an app for Windows Mobile to all friends?that is "World Cup 2010 application for Windows Mobile". This application has been entirely developed using the Compact Framework applying some UX concepts from Windows Phone 7 panoramic UI and spikes on fluent UI I recently worked on.
By using this software, you can get the latest World Cup news, groups complexion, schedule and other information.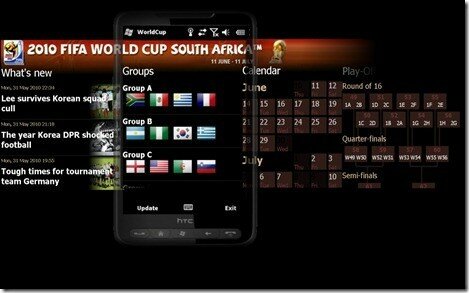 This app requires a touch-screen device with Windows Mobile and the Microsoft .Net Compact Framework 3.5.
Key features:
*64 matches with detailed info which can be browsed by group, date or play off stage.
*Positions of the 32 teams in each group.
*8 Groups details.
*Play-offs chart
*World Cup news ,pictures and links will be manual updated on-line.
As this is just a proof of concept, you can download it for free following the links bellow:
worldcupinstaller.v.0.1.ZIP (237KB)
worldcupinstaller.v.0.1.CAB (237KB)
The Software has very high of fluency , it is difficult to imagine that it is based on. NET Compact Framework.Don't be surprise, the developer?José Gallardo Salazar? used to be a member of Microsoft Patterns & Practices Mobile Client Software developers.
Tags: football, south africa, windows mobile, windows phone, world cup