Posts Tagged 'world cup'
Jul 1, 2010 Uncategorized
The World cup football match has begun, but you are still busy in your lots of work ? Or on the way home.So what to do if you want to know the status of ongoing match? I had introduced two software regarding to world cup (FIFA 2010,World Cup 2010)before,now there is another world cup related software for windows phone,it can broadcast live events in real-time by text information to temporarily relief your depressed mood that you couldn't watch TV.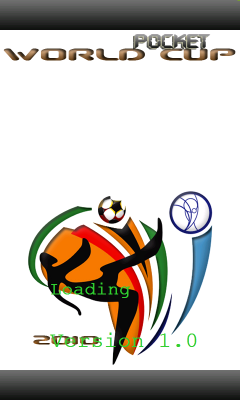 Read the rest of this entry »
Tags: godsw, pocket PC, windows phone, world cup
Jun 17, 2010 Tools, windows mobile
In the World Cup this month, in addition to a cool beer and the Software of World Cup   on the Windows Phone with you, you certainly do not want to miss each exciting football match.Today what I want to recommend to you is a fast all race to the World Cup on your Windows Phone phone software program.
The software is called "FIFA 2010″, and the software interface is very simple, only a few simple buttons and menus: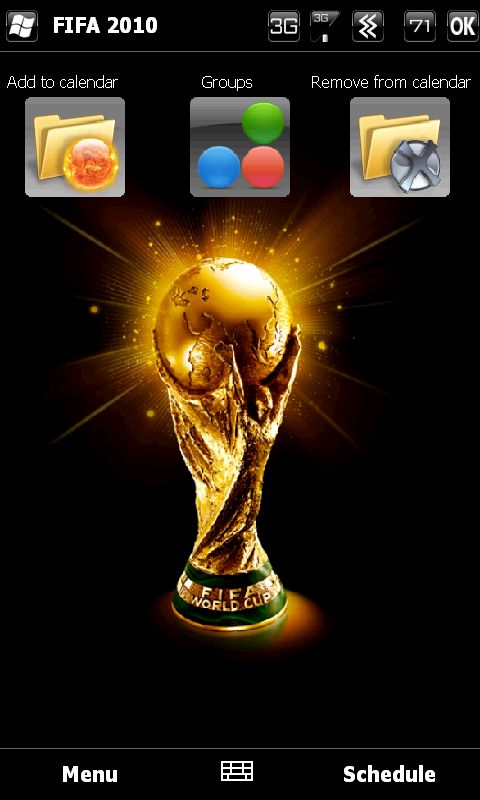 To use the software, first of all we should open the  menu "Schedule" to set our time zone.Click the arrow in top left corner back to the main interface after setting:
Read the rest of this entry »
Tags: football match, football schedule, windows mobile, windows phone, world cup
Jun 7, 2010 Uncategorized
2010 South Africa World Cup is approaching?as a football fan?don't you want to get the latest game report in time?Today I want to recommend an app for Windows Mobile to all friends?that is "World Cup 2010 application for Windows Mobile". This application has been entirely developed using the Compact Framework applying some UX concepts from Windows Phone 7 panoramic UI and spikes on fluent UI I recently worked on.
By using this software, you can get the latest World Cup news, groups complexion, schedule and other information.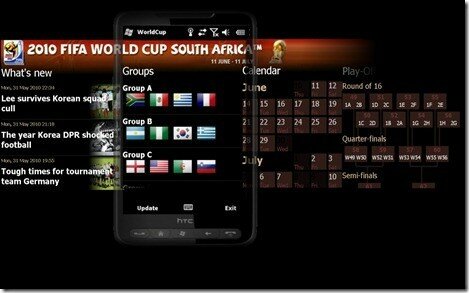 Read the rest of this entry »
Tags: football, south africa, windows mobile, windows phone, world cup