Apr 19, 2011 News, Tools, windows mobile
What is GodswMobile SMS Mirror?
GodswMobile SMS Mirror is a must have tool for Windows Mobile 5/6 users to mirror all outgoing and incoming messages and save them in a database. The mirror is a copy of your mobile sms so you never miss the sms with your friends. You could also "move" your secrete private messages from system inbox to this mirror so nobody could see your "own" messages without the mirror password.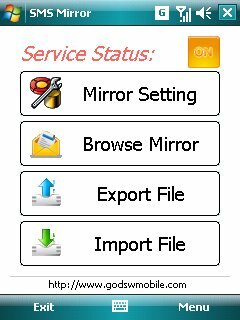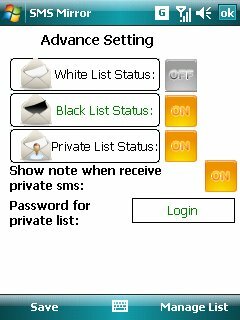 Key features:
Auto mirror incoming and outgoing text messages;
Real-time backup incoming and outgoing sms;
Keep your private message personal;
Export backup sms as smr file and view on PC;
Export backup file as text and msr file;
Send backup file via bluetooth, email, mms;
White and black list function;
Password protection;
Auto start, work in background;
Support unlimited text messages mirror;
Support VGA and WVGA Screen (such as HTC Touch HD/2 and Diamond/2).
We are looking forward to having you been our valuable user.  Are you ready?
Free download from here:  GodswMobile SMS Mirror.
Tags: copy sms, godsw, godswmobile, htc, message mirror, private messages, private sms, sms backup, sms filter, sms mirror, sms security, sync message, sync sms, transfer sms, windows mobile