Posts Tagged 'new version'
May 20, 2011 News, Tools, sms transfer, windows mobile
Hello dear?
Today, GodsMobile Team announced that the most popular product "GodswMobile SMS Transfer manager" has been updated to V2.5
NOTE: The latest version of GodswMobile SMS Transfer for mobile is still V2.1, so you do not need to update your mobile file.
Please click the following link to upgrade your GodswMobile SMS Transfer Manager:GodswMobile SMS Transfer Manager V2.5 for PC.
What is new?
1. Add the search function
User could search text messages by content, number or name.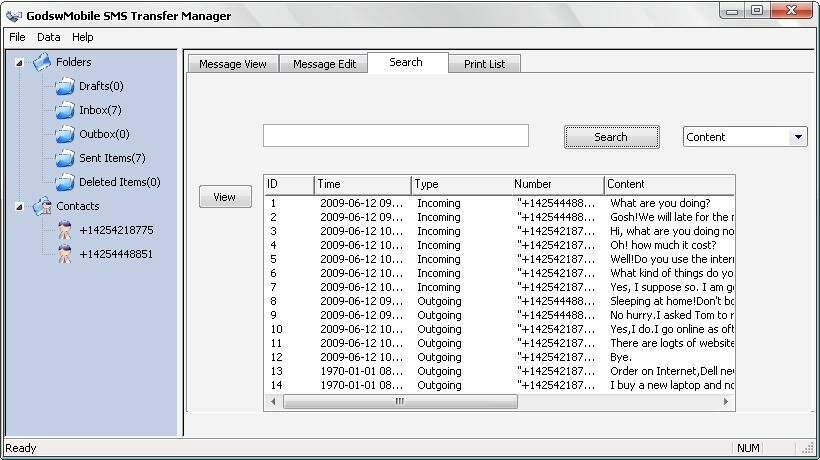 Read the rest of this entry »
Tags: backup sms, godsw, godswmobile, micro phone, new version, sms manager, sms transfer, upgrade, windows mobile, windows phone
Jul 16, 2010 Contacts transfer, windows mobile
Hello everybody,
Summer holiday's coming. GodswMobile announces GodswMobile Contacts Transfer has been updated to Version 2.0.
GodswMobile appreciates friends who have used our GodswMobile Contacts Transfer  all over the world, thank you very much for a long time support.
The new version of GodswMobile Contacts Transfer has fit the bug which happened to  interrupt the process of transfer in some mobile phone and added several applications.
What's New:
Export contact as outlook file(*.csv) and vCard file(*.vcf)
Sync contacts between windows mobile, iPhone,  android phone,gmail, outlook
More informations about new features please read:
Read the rest of this entry »
Tags: Contacts transfer, godswmobile, new version, Update, windows mobile, windows phone