Feb 2, 2010 Contacts transfer
Hello everybody!
Cheers!
Firstly,we wanna appreciate friends who have used our GodswMobile SMS Transfer all over the world,because of  you,GodswMobile SMS Transfer is sold to thousands of users over 50 countries worldwide in the past years.During that thankful time,we received  mails from  many users who require the same easy-to-use backup app for mobile contacts transfer.Now we have done it!
Now,Here!We are pleased to announce that a new powerful application GodswMobile Contacts Transfer has been launched.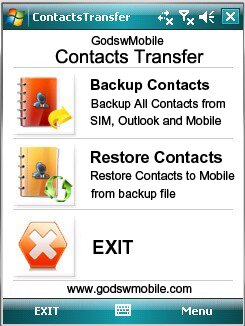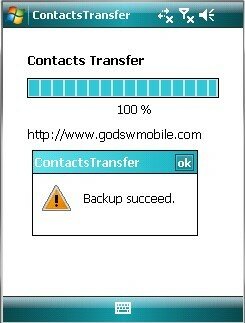 Key Features:
*  Transfer both sim card contacts and mobile outlook contacts;
* Including an app for PC to view,add,delete,modify and print contacts;
* Restore contacts to any other windows mobile phones;
* Backup contacts as TXT file and CTS file;
* Backup contacts pictures and ringtones;
* Support unlimited contacts backup/restore;
* Support VGA and WVGA Screen (such as HTC Touch HD/2 and Diamond/2).
Download and get more info. at:https://godswmobile.com/
Welcome to download the trial:
https://godswmobile.com/download.html
Hopefully you will enjoy it.It will be appreciated to any comments about our new released application.
*People who makes  nice pieces of suggestion or discovers a bug about GodswMobile Contacts Transfer will receive a coupon mail within a 50% discount link after verified,so do remember to leave your correct email address when commenting.
we are looking forward to having you been our value user .So don't wait,just try!
Best regards,
Godsw Software,Inc.