Aug 13, 2010 Tools, windows mobile
In order to appreciate customers who was always gives suggestions to GodswMobile Team , we released a new FREE program for all Windows mobile users–GodswMobile Today.
GodswMobile Today is a simple and practical today plug-in for Windows Mobile Phone. It organizes your Today Screen in a better workplace and keep all important system info at hand. It also shows you a digital clock contains date, week, hour, minute, second. It is total FREE for all GodswMobile supporters.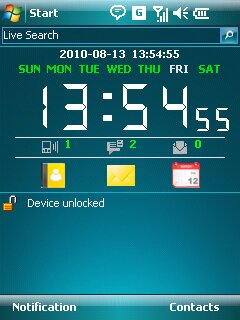 Here is more screenshots for this today plug-in:
With GodswMobile Today, you could easily check  how many unanswer calls, unread text messages and emails you got. And you could also access to inbox, contacts, calendar by one-click on your Today desktop.
How to apply this plug-in?
1. Copy the godswmobile-today.cab to your mobile.
2. In your mobile, navigate to the location of the CAB file using File Explorer.
Then click godswmobile-today.cab to setup it.
3. Go to start -> setting -> Today -> Items, then select GodswMobile Today to apply it.
Download Now:
Hopefully you will love it.
GodswMobile wish you enjoy your mobile life.
Tags: freeware for windows mobile, today add-on, today plug-in, windows mobile