Mar 8, 2010 News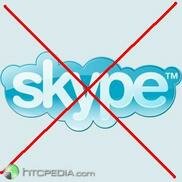 Skype has assassinated the development and availability of Skype for Windows Mobile versions.
Skype says this may be questionable, but the fact is, it happened.
Skype Lite and Skype for Windows Phones are no longer available for download (existing users can still use them).
The reason is simple. Neither of these apps offered a great Skype experience. And it comes at a time when Skype is performing strongly on the iPhone and Symbian platforms, and is soon to make an appearance on a wide range of RIM BlackBerry and Android handsets. So, what about the new comer, Windows Phone 7 Series?
So,Let's wait!wait for what?May be skype needs to make a return.who knows?
Tags: skype, windows mobile, windows phone