Posts Tagged 'htc android'
Mar 25, 2010 News
Hello sweets,
Sprint Nextel Corp. formally launched the first 4G phone in U. S.
The phone, called the Evo, is made by HTC Corp. (2498.TW). Sprint did not provide pricing information on the device or service plans, and the company maintained its timeframe of a summer launch.
Sprint is competing to get people on its network as it expects to make a lead over the other carriers in 4G.
It is equipped with two cameras, including a front-facing one, which is used for video conferencing. The device's ability to handle high-definition video is one of the key selling points for Sprint and the 4G network. Thephone also can act like a mobile hotspot and create a Wi-Fi connection for eight other devices.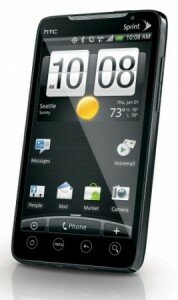 Some of the features of HTC Evo 4G:
*8MP Camera with flash, capable for 720p video
*1.3MP front facing camera
*HDMI Out port
*WiFi
*Acts as HotSpot for up to 8 devices
*8GB microSD card included
*Android 2.1 with Sense
Read the rest of this entry »
Tags: htc, htc 4G, htc android, htc Evo, sprint