Posts Tagged 'Mango'
May 16, 2011 News, windows mobile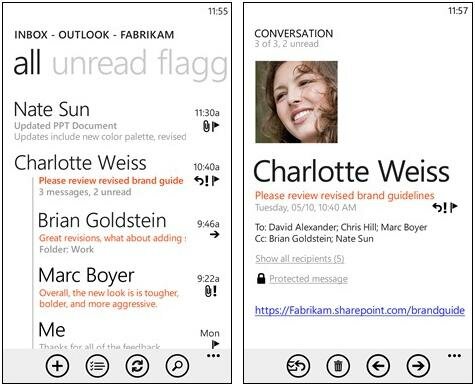 It has been reported earlier this month that a whole bunch of new features Microsoft is expected to add to Windows Phone 7 for its upcoming Mango release. Among those, we saw new messaging options and some hub redesigns. Microsoft is keeping it coming with the Mango teasers, announcing even more changes we can look forward to, including new features concerning email and administrative functions that should please anyone working in corporate IT.
Conversation view will automatically group together messages as they're replied-to, making it easier to follow along at a glance. If you've got a whole group of emails that you'd like to keep together while still having them easy to access, you'll be able to pin the entire folder to your start screen. Support for server-side search will make it easier to recall older emails without needing to keep your entire email history on your phone.
While some of the IT stuff is a bit technical for most users, like the addition of an Information Rights Management system that can help keep sensitive corporate communications secure, other features will also appeal to home users, like native support for hidden WiFi networks. If you're careful about your smartphone's security, you should like the extended password support, handling alpha-numeric combinations.
Microsoft also briefly touched on the Mango update at Mobile World Congress and said that third-party multitasking, support for Internet Explorer 9, and Twitter integration are also coming to Windows Phone. This will be the first major software update for the platform. Microsoft is currently rolling out the NoDo update, which brings copy and paste and improved performance, though the process hasn't gone very smoothly.
We hope things will be better with Mango. So let's just wait until May 24 to check back them on all the update details.
Tags: Mango, Microsoft, windows mobile phone