Oct 27, 2011 Tools, windows mobile
Hey dear!
Are you a video fan, or you are hoping to watch video more easily on your windows mobile phone? Then we are sure you are gonna love the freeware we are going to introduce today. It's called mVu Mobile Viewer. Here goes more details about it.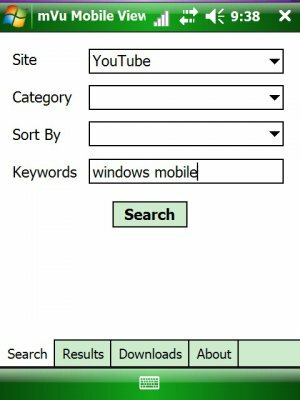 Overviews:
mVu Mobile Viewer is a Windows Mobile application for searching, downloading, creating playlists, and streaming videos from multiple websites, including YouTube, Dailymotion and CollegeHumor.
Requirements:
◦Net Compact Framework 3.5
◦A video player capable of playing flv, mp4 and/or 3gp videos. Coreplayer is recommended. See notes below.
◦Must associate video player with Flash Video, .3gp, and .m3u (playlist) files.
Features:
◦Search sites (YouTube, Dailymotion, CollegeHumor, Tube8, Pornhub, etc.) by keyword
◦Stream video to player in flv, mp4, mpg, or 3gp format (depending on site)
◦Save videos to device
◦Create m3u playlists
◦Extract audio (MP3/AAC) from FLV files
Free Download of mVu Mobile Viewer
https://godswmobile.com/download/mvu-mobile-viewer.1.09.zip
Tags: download video, mVu Mobile Viewer, Watch video, windows mobile, windows mobile application, Youtube