Feb 26, 2010 News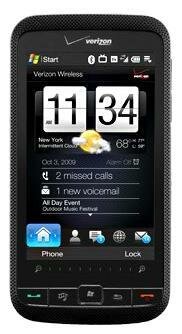 HTC Introduces 5 Windows Mobile 6.5 Phones
HTC's relationship with Microsoft appears to be going strong, with a slew of Windows Mobile 6.5 devices to choose from in the coming months. We count five so far:
The HTC HD2: This delectable phone sent the smartphone news world topsy turvy with near daily rumors for all of Q3 and then some. It appears the wait is over, since we now have the full list of specs and pictures galore. Also, it has just been revealed on HTC's European website, featuring its 1GHz Qualcomm processor, 480 x 800 WVGA capacitive touchscreen, the sweet HTC Sense UI and very slender 11mm casing. The HD2 is expected to show up for certain European operators later this month and roll out to other regions over the next few months. We've also got work from Peter Chou himself that the device will be available in the US early 2010.
The Verizon HTC Imagio: The Imagio  is a WM 6.5 device featuring TouchFLO 3D software and is on Verizon's site for sale now. It's got a 5 megapixel camera, 3.6-inch LCD touchscreen and supports Verizon's spanking new V CAST Mobile TV. It's even got a kickstand so you can chillax at your desk whilst working away. It's available for $199.99 after rebate with a new 2-year contract.
The AT&T HTC Tilt2: Finally, AT&T joins the party with their version of the HTC Touch Pro2. It's got Straight Talk, a 3.6-inch touchscreen, spacious physical QWERTY keyboard, allowing you to edit documents and keep in touch with ease. It is available for $299.99 on a new 2-year agreement.
The AT&T HTC Pure: AT&T's version of the Touch Diamond2, the HTC Pure has undergone some modifications in the looks department before showing up for customers. It's still got the touchscreen and TouchFLO 3D Ui, the 3.2-inch LCD touchscreen, the 5 megapixel camera and the marketplace. Sans physical QWERTY keyboard, the Pure is available for $149.99 with a new 2-year contract.
The HTC Touch2: The HTC Touch2  is available now for certain European markets, offering up a 2.8-inch TFT-LCD touchscreen, 3.2 megapixel camera and integrated GPS. The Touch2 will make its way across European and Asian markets throughout Q4 2009.
So, there you have it. If you've been paying attention today, there really isn't anything new here, just keeping track of all there is to track today. HTC news is flowing in, both on the Windows Mobile 6.5 front as well as Google Android News. We'll keep you updated as more comes our way.
Tags: HD2, htc, imagio, pure, tilt2, touch2, windows mobile 6.5