Nov 25, 2010 News, windows mobile
Pocket Call Blocker V1.1: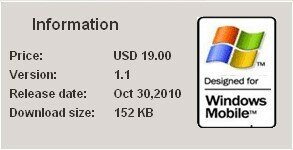 1. Fixed the time stamp error on SMS Blocking for Windows Moible.
2. Sort contacts lists by Alphabetical order when adding blocking number to the blacklist.
3. Cancel ringtone and vibrate when sms blocking action is "Mark as read".
4. Fixed minor bugs
More feature please click here.
Free to download the latest version of Pocket Call Blocker
Below is the User's manual of Pocket Call Blocker:
How to install Pocket Call Blocker on Windows Mobile phone?
How to block unwanted incoming calls on Windows Mobile?
How to block SMS messages on Windows Mobile?
More information please read the Homepage of Pocket Call Blocker.
Hopefully you will love it.
Tags: block anonymous calls, block anonymous numbers, block cell phone calls, block cell phone numbers, block incoming calls, block phone calls, block phone numbers, Update, windows mobile