Posts Tagged 'block cell phone calls'
Nov 25, 2010 News, windows mobile
Pocket Call Blocker V1.1: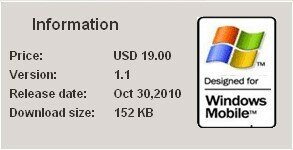 1. Fixed the time stamp error on SMS Blocking for Windows Moible.
2. Sort contacts lists by Alphabetical order when adding blocking number to the blacklist.
3. Cancel ringtone and vibrate when sms blocking action is "Mark as read".
4. Fixed minor bugs
Read the rest of this entry »
Tags: block anonymous calls, block anonymous numbers, block cell phone calls, block cell phone numbers, block incoming calls, block phone calls, block phone numbers, Update, windows mobile
Nov 5, 2010 News, windows mobile
Dear All,
We are so exciting to announce that one of the GodswMobile Products – Pocket Call Blocker has already released.
Pocket Call Blocker is an effective tool to block selected phone numbers from ringing your phone.  It could block any unwanted incoming phone call,  including but not limited to:  specific numbers,  wildcard numbers,  anonymous and unidentified numbers,  group numbers.  You could set your own rules to block any incoming call and sms from unwanted,  annoying numbers.
So! Take control of your incoming phone calls and sms now!
Key features of Pocket Call Blocker:
* Multiple filtering rules – filter by specific numbers, wildcard numbers, anonymous and unidentified numbers, groups/categories numbers, contact/non-contact numbers; all numbers.
* Two incoming phone call block actions – hang up and mute;
* Two SMS block actions – delete and mark as read;
* Built-in phone number block log;
* Run on background;
* Easy way to operate and set up filter rules;
* Fully support Windows Mobile 5 and 6;
* Fully support VGA and WVGA Screen
Tags: block anonymous calls, block anonymous numbers, block cell phone calls, block cell phone numbers, block incoming calls, block phone calls, block phone numbers, pocket PC, windows mobile